About this item
"Aficionados of British crime fiction can't get enough, and this fresh mystery will satisfy their cravings"
Library Journal Starred Review

Introducing outspoken female sleuth Alex Quick in the first of a brand-new mystery series</
About the Author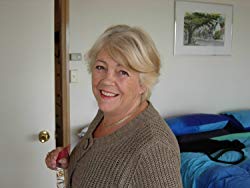 Susan Moody
Susan Moody began writing crime novels with Penny Black, the first of the seven Penny Wanawake crime novels.

Her first acclaimed suspense novel was Playing With Fire, and was followed with equal success by Hushaby, House of Moons,and The Italian Garden. All of them were translated in several languages.

Takeout Double, the first of the Cassandra Swann series, was published in 1993, and followed by Grand Slam, King of hearts, Doubled in Spades, Sacrifice Bid and Dummy Hand. Susan has also written a number of short stories.

Susan achieved a long-standing ambition to produce a best-seller, with Love Over Gold, the story of the Gold Blend coffee couple! This sold nearly 200,000 copies world wide and

made the Sunday Times best-seller list. It was unfortunate that she chose to write it under a pseudonym.

She has also written a sequel to Francis Hodgson Burnett's children's classic, the Secret Garden. Misslethwaite was shortlisted for the annual award of the Romantic Novelists' Association and sold over 50,000 softback copies in the first month of publication. It was published in the US as Return to the Secret Garden.

In all, she has published 29 novels, most of them crime and suspense. Susan spent two years as a Creative Writing Tutor in Her Majesty's Prison, Bedford. She is a past Chairman of the Crime Writers' Association, serving in all as a CWA Committee member for seven years. She is a long-standing member of the prestigious Detection Club and served for three years as the President of the International Association of Crime Writers.

In 2000, she published The Colour of Hope, which was phenomenally successful and sold in 20 different Countries. Since then she has published Dancing In the Dark and Losing Nicola. Loose Ends will appear in October 2012

She spent a semester in Tasmania, Australia, as Writer-in-Residence at the University of Tasmania, has taught a course in the Crime Novel at the University of Copenhagen, has given a master-class in crime writing on Meridian TV, and has led many courses and workshops in creative and crime writing in England, the US and Australia.

Susan is married to the Australian mathematician, Professor John Donaldson, who has three sons and one daughter, as well as twelve grandchildren. Susan has one grandchild of her very own. She has homes in Tasmania, France and south-east Kent.
Discuss with your friends
Report incorrect product information.